Scroll down for downloadable pics and info

COUNSELOR
Rusty is not only a phenomenal player, songwriter, singer performer but also spends time working with others as a Rock & Roll Fantasy Camp Counselor helping others to live out their dreams to play and perform with some of the biggest Rock Stars in the world.
Rusty is hired to play with the best because he is one of them. You can be sure he'll do an amazing job at your event too!
Testimonials
In his home state of Michigan, Rusty Wright was hailed as the most compelling blues rock act to emerge from the state in a decade, receiving accolades from Buddy Guy, Charlie Musselwhite; W.C. Clark; members of Lynyrd Skynyrd and Molly Hatchet, and even Question Mark of the 1960s iconic band Question Mark & the Mysterians.
"You don't need to take ---- from anybody. You're great."
~Buddy Guy, Kennedy Center Honors recipient
"Rusty you guys were smokin' tonight. Bravo!"
~Charlie, Musselwhite, Grammy Award winning blues artist
"They were awesome. Easy to work with and great people
 You won't be disappointed. We certainly weren't!"  
~Kevin J. Barry, Bonita Blues Festival
"Rusty Wright gained a whole slew of new fans with his
smokin' hot guitar and great blues songs. His stage
manager Bob Willie said it ranked in his Top 10 acts of
all-time at the Unum Stage."  
~Bob Payne, entertainment editor, The Chattanoogan
Rusty Wright is a masterful lyric storyteller who ignites his musical tales with world class fretwork. This Billboard Top 10 artist's innovative sound is a hot rod fusing of Texas and Chicago-style blues; swinging boogie & Southern rock.
Wright's song lyrics run the gamut. Ballads like Trouble's Always Knockin follow the traditional Blues path, while the powerful No Man is an Island was inspired by a story about an autistic child. Black Hat Boogie is a high-energy ode to computer hackers and the tongue-in-cheek Alarm Clock Blues pays homage to the 'single most nefarious gadget invented by the mind of man'.Following a several year hiatus from heavy touring due to caregiver responsibilities, Rusty and Laurie Wright now perform 200 dates a year in Florida and are ready to once again undertake national & international tour dates to support their 2020 album release Hangin' at the DeVille Lounge.
"Dude – Where the hell did YOU come from?"
~Rickey Medlocke, Guitarist, Lynyrd Skynyrd
"We Love you and Rusty! We hope to have you at Torre
Alfina Blues Festival more and more times!"
~Torre Alfina Blues Festival, Aquapendente, Italy
Rusty Wright Hi Res Photos (300dpi)
~RWB Stage Plot~
~RWB LOGO~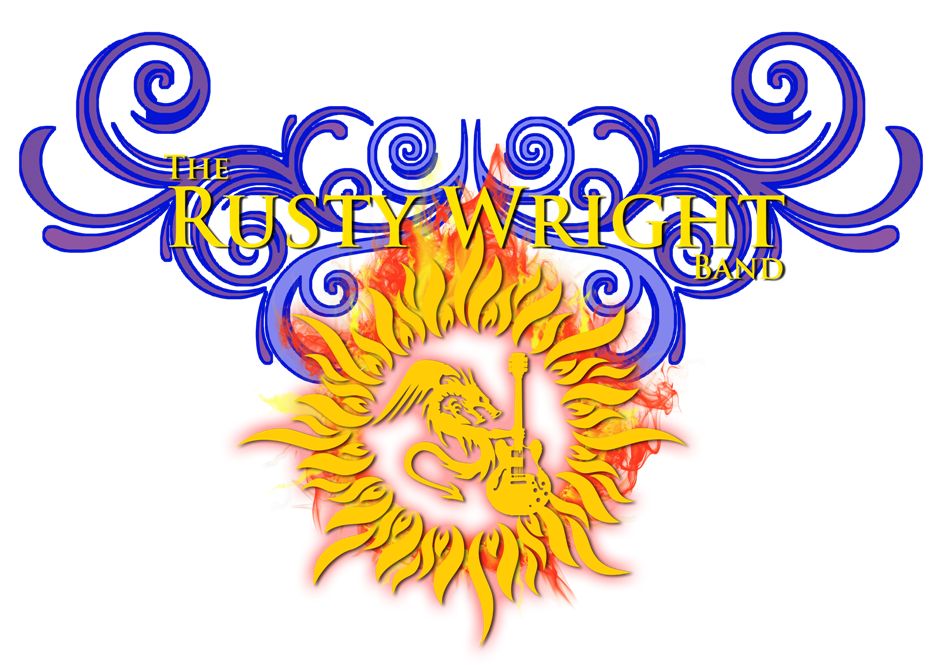 ~LIVE VIDEO~
 ~RWB PROMOTIONAL MATERIALS~
2020 One Sheet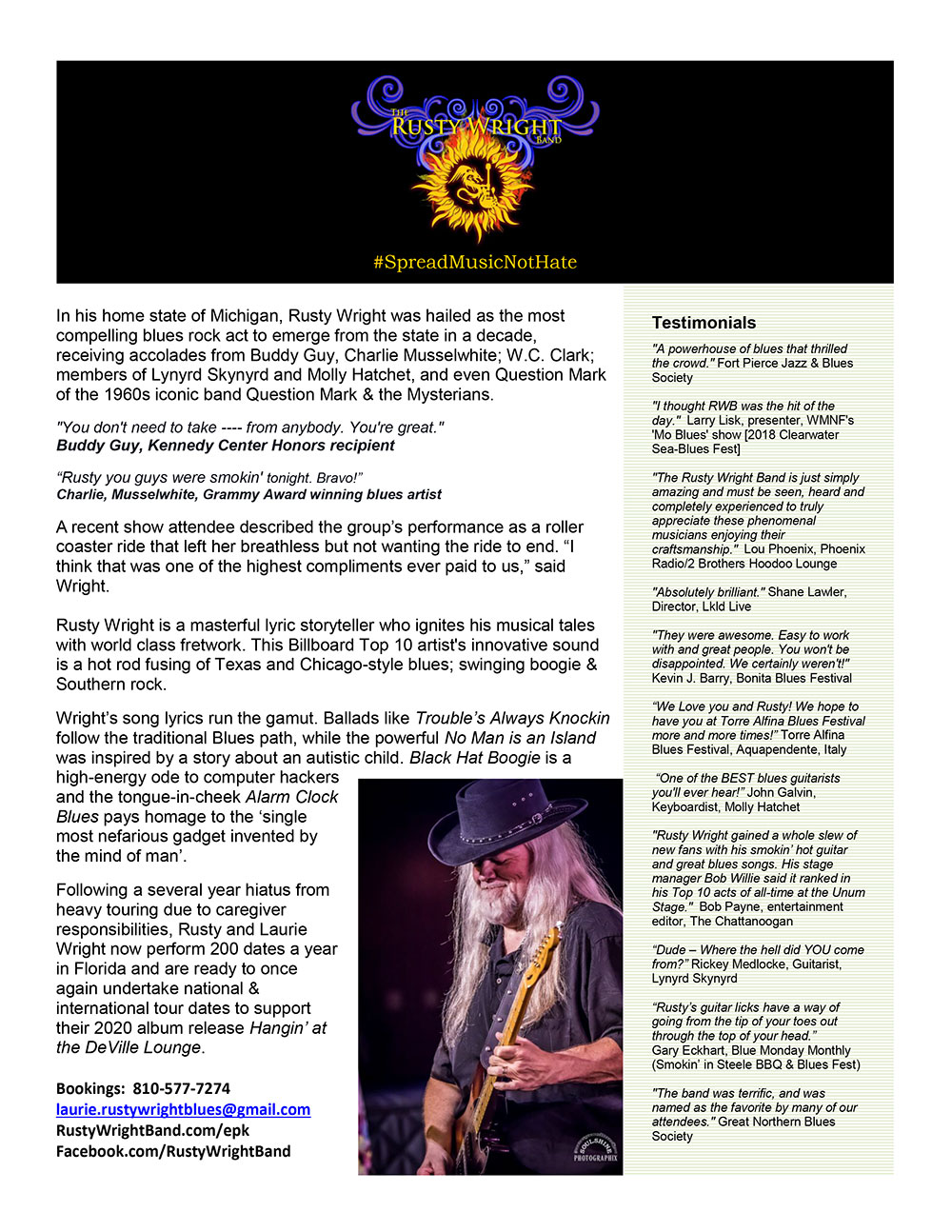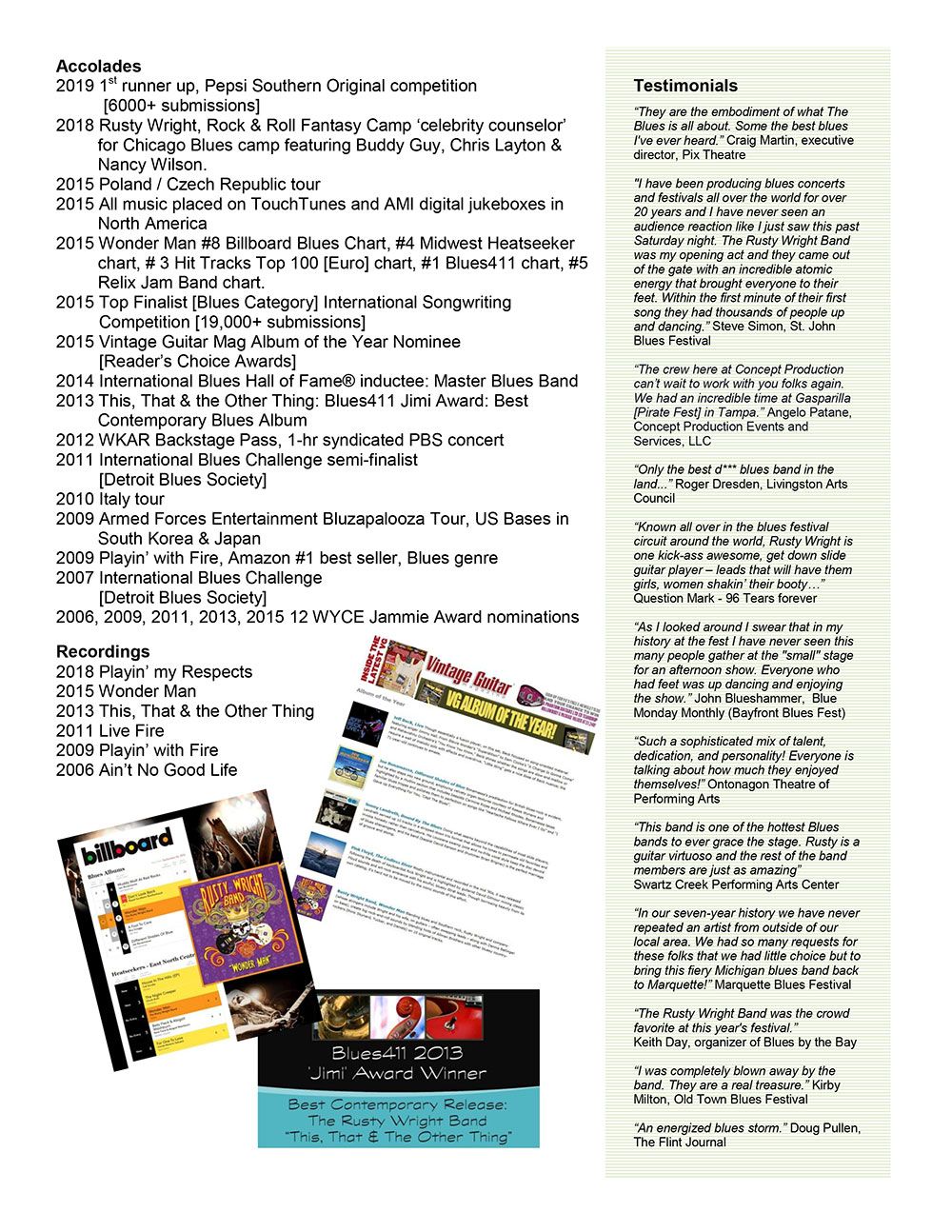 Rusty Wright BIO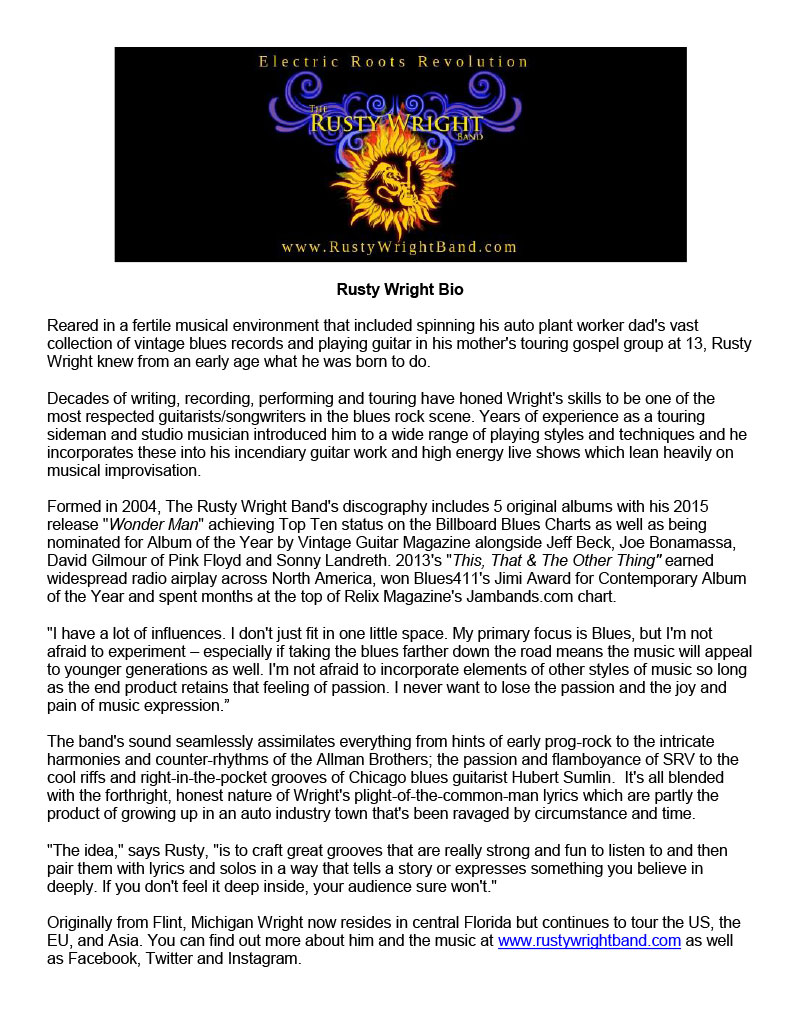 Performance Testimonials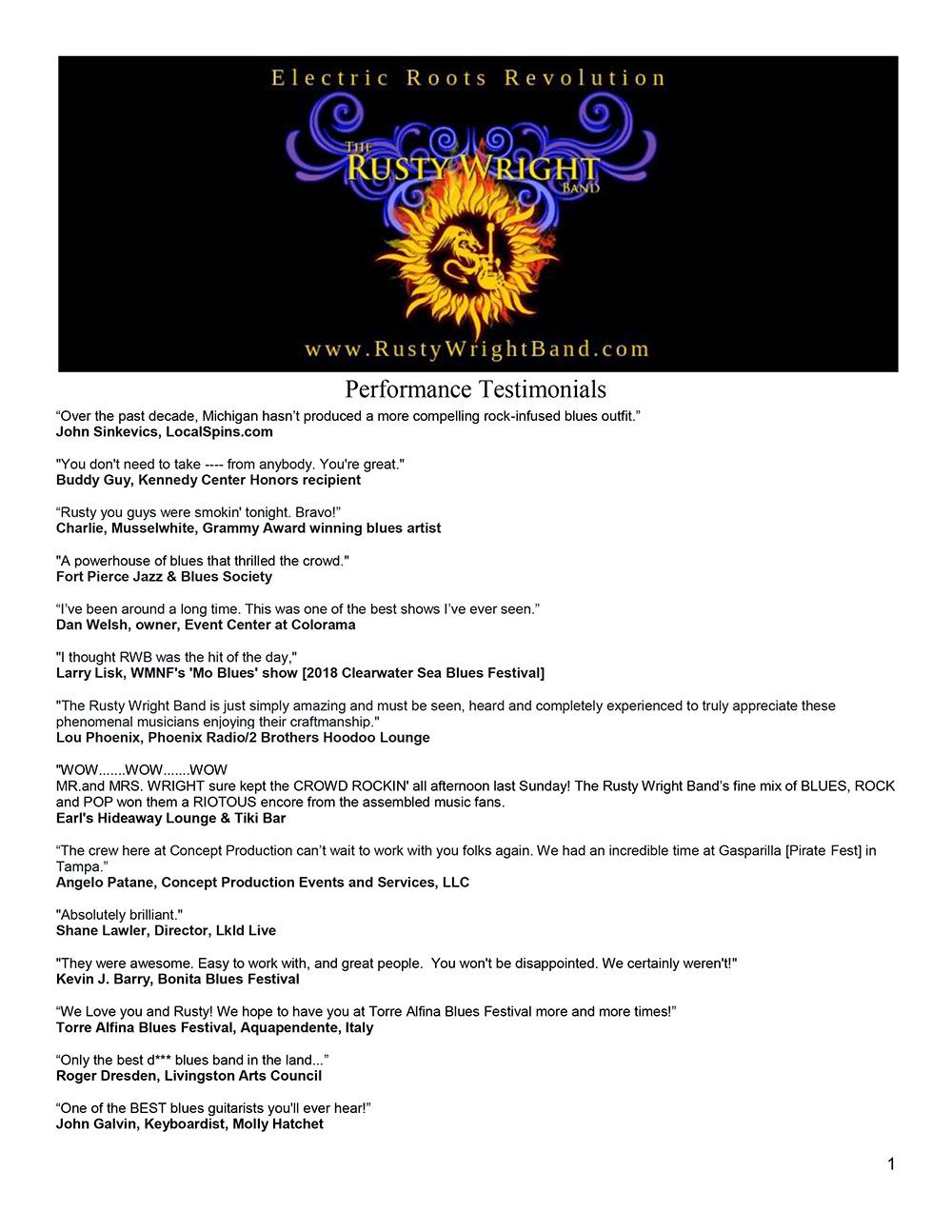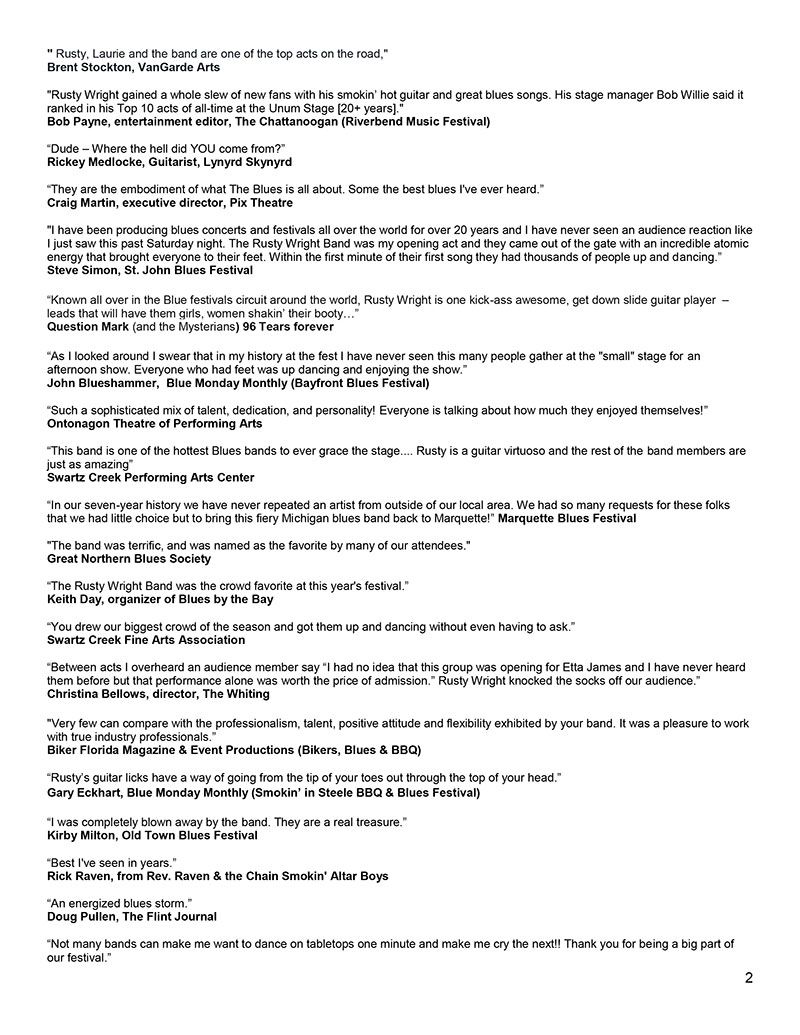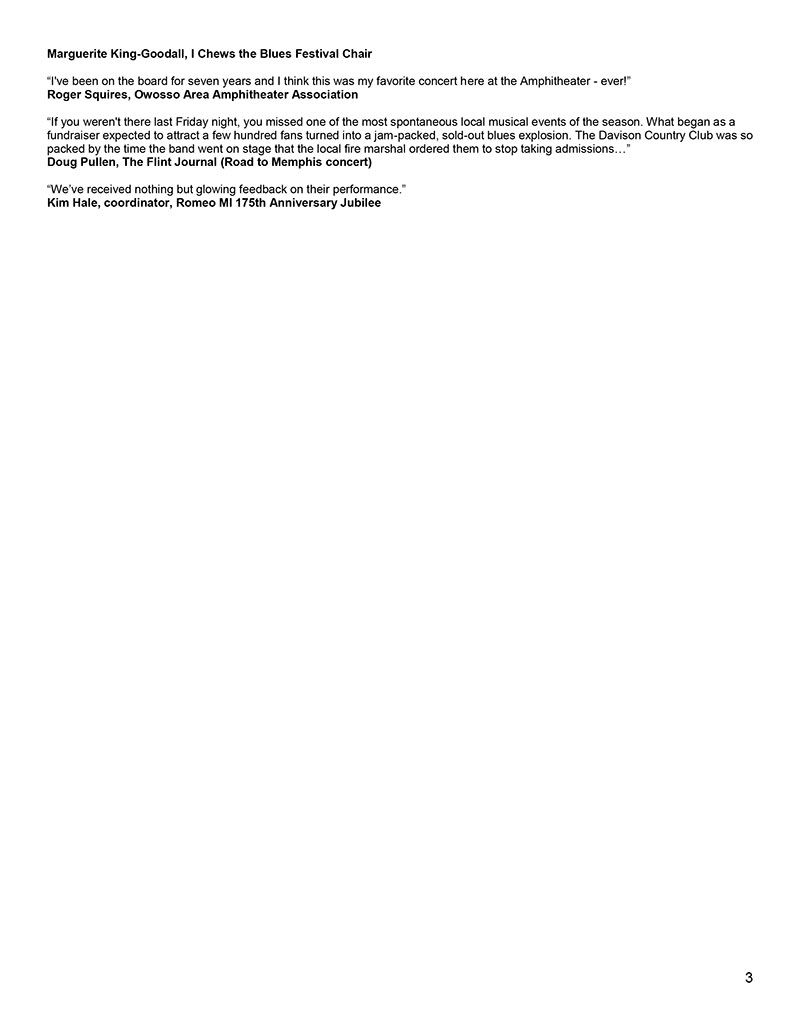 Performance History